MARK OF THE BEAST ROLLOUT
Can You Handle The Truth? An Insider's Explanation Of What Is Really Going On Behind The Scenes Of The "COVID-19 PANDEMIC"
311,074 views
Oct 14, 2020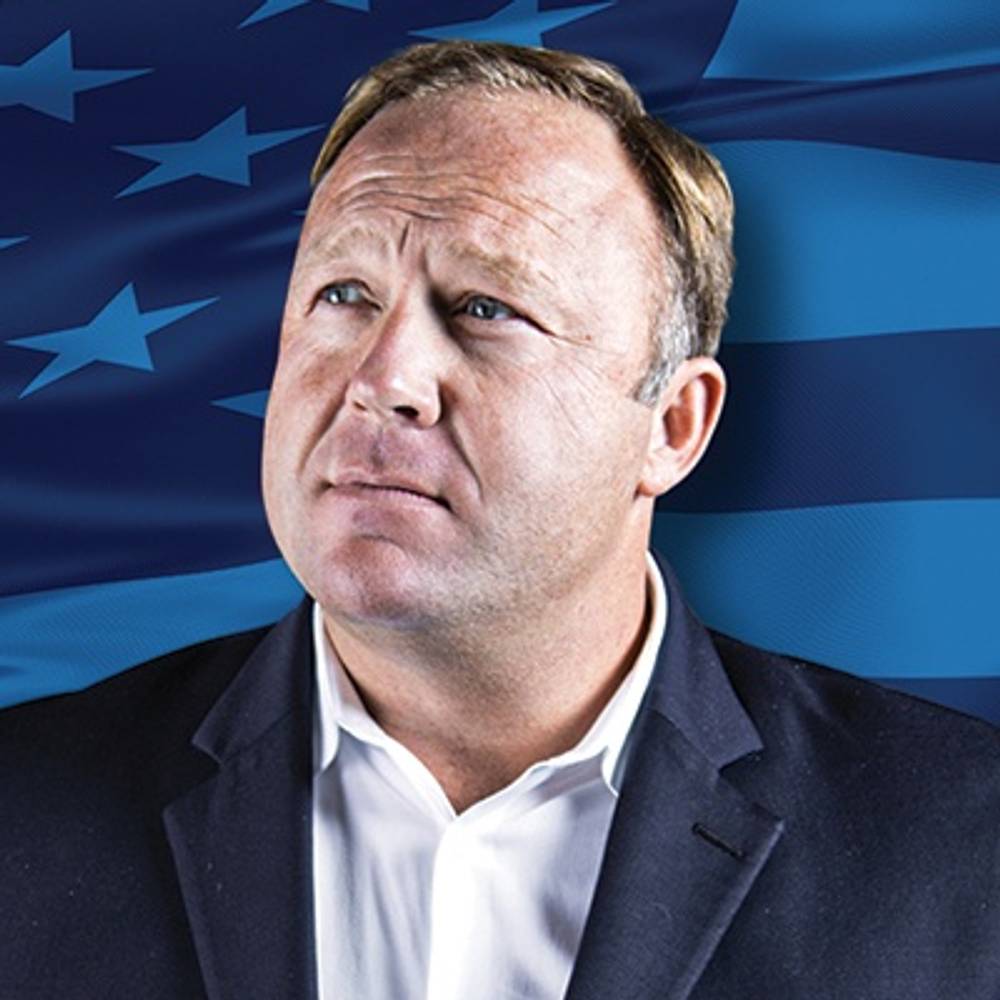 Former Clinton Housing Admin and banking insider Catherine Austin Fitts joins The Alex Jones Show to break down the rollout of the Mark of the Beast.
COMMENTS
KurtR
10 hours ago
43:30 Want to make your own Gatorade? Easy. Get unrefined sea salt and pure vitamin C powder and some liquid stevia. Add 1/4tsp each of salt and vit C to 24oz water and about 6 drops of stevia. Mix it up real good. Super cheap way to get minerals, vitamin C and water an ZERO ASPARTAME.
AmericanViking999
13 hours ago
https://youtu.be/vbXY63CunlE
ALEX STOP INTERRUPTING YOUR GUESTS!!! There's a reason why we have 2 ears and one mouth. It's constant, especially with your most important guests like David Icke; it's disrespectful and disruptive to the speaker and the audience's train of thought.
Stuckinliberaltexas
21 hours ago
The aspect that doesn't make sense to me about causing riots to buy up real estate while also imploding the economy and creating an AI future, is who will be the consumer? Why not just take everything by force and rule with an iron fist? I don't understand why they need to scheme to manipulate people when they can just flip the switch.
ChosenGeneration
a day ago
Carry out the year of jubilee. All debts to be forgiven each seven years. Deuteronomy 15:1-2. If the real party in interest lenders don't like that, demand they pay four times the amount of debt owed to the people for their attempted slavery of the human race. In Jesus' name. I BIND AND CAST DOWN ALL SATANIC FORCES IN THE NAME OF JESUS FOREVER AND FOREVER. Thank you Lord Jesus!
If every city and town plugged smart grid integration with power generators and each big building utilized renewable energy trillions of NEW revenue is created I told a VC firm that and look at Sydney they saw so much $ sped up these plans
VitaminMineralFusion
a day ago
Phenomenal guest and interview.
The story in the week of January 19, 2020 told you that the new corona virus had hit the U.S. You had been set up in advance with the story of quarantine in China. The corona virus was loose and the people all had to go back home, go in, return home and stay in. The initial direction of the stock market was indicated as DOWN. The space/time coordinate was indicated by the "corona" which was a tip to the solar eclipse at the summer solstice. Initially the stocks moved up because the general public had not caught on to the severity of the virus and associated quarantine. Don't worry about the market not reacting immediately. I've seen this before. When a 40th week movement in the stocks begins, sometimes it goes in the opposite way for a couple weeks before the natural market forces can be broken and turned to the other direction. Think back to January…. the stock market was moving up and up and everybody was buying because Trump was thought to be a great businessman bringing a strong business cycle to America. There was incredible momentum no matter what the news was. They just kept buying and buying. Even when the 40th week arrived (which they don't know about) they saw the virus news but completely downplayed it and just kept buying stocks. It took a couple weeks and some more scary news before the general public caught on to the implications of the virus and a major selloff. Then the market sold down extremely, and bounced upward until just before summer solstice. The rally stopped briefly, stocks fell down to the solstice and then turned upward and continued upward. Many stocks actually went on to new highs. Now here we are waiting for the next coded message….
The binary UP or DOWN is indicated by the language of QUESTING or RETURNING home. Have you ever watched CNBC and seen the talking heads say the market is coming in or going out? What do they mean? In is down. Out is up. If you come in, come home, return or remain then you are NOT QUESTing… that is DOWN. If you go out, go searching, go on a journey or crusade, mission, pilrimage or adventue…. that is UP. Simple. In is down, and out is up. This confuses people who also hear CNBC talk about a rising tide floating all boats. That story of the tide coming in and water rising versus the tide going out and water lowering will mislead you. The occulted truth is the exact opposite…. out is up, in is down. You go out on a crusade upward and then you return home downward. Think about it like this…. the spirit rises to the heavens when you die, or the spirit falls down into matter when you are born. You go out, or you come in. Read the details of the Holly Bobo story. In one of the many 40th weeks, a story was told about the discovery of Holly Bobo's skull in the forest. After the two men searching for ginseng found a skull they returned to tell the story to the police. That is all you need…. two men went searching…. stocks went UP…. until they arrived at the place of the skull (Golgotha, Summer Solstice)…. then they returned to tell the story and the stock market turned downward. It moved up until summer solstice and then turned and headed down until the end of the forty weeks. The encoded story in the fortieth week tells you what will happen in the future, the next forty weeks. The story told you that the stock market would rise until summer solstice and then turn and fall down until the end of the forty weeks. It is that simple. It is shocking.
The cabal is going to tip their hand the week BEFORE the election. They have already decided the direction of the stock market. They have orchestrated the story which will be broadcast the week of October 25-31, 2020. They have the news written, the video edited and the entire scripted event planned ahead of time. It does not matter who gets elected. If the globalists decide UP then the cabal's Media will cheer the election of Biden or the re-election of Trump. If they decide DOWN then the cabal's Media will blame the re-election of Trump or blame the election of Biden. It has been decided already. We are just waiting for the week of Halloween. Do NOT trade on my prediction, but I am predicting DOWN. Wait until the coded message is broadcast before you make a trade. I will interpret the archetypal symbolism and let you know after the message is broadcast. Just for fun, I am predicting DOWN, and the reason is because I believe the move will be short lived and will only last until Winter Solstice or Epiphany. After the binary UP or DOWN is indicated (QUEST), then a future point in time is revealed as a turning point within the 40 weeks. Sometimes the duration of the UP or DOWN move is given as the entire 40 weeks. Other times the duration of the initial indicated UP or DOWN move lasts only until the encoded space/time location. I have seen a religious event (Easter) given as a point on the calendar. I have seen a Solstice given as the turning point. We can only wait and WATCH and see what happens. I do know that the Summer Solstice is the place of the skull and the Winter Solstice is the place of the bones. So I am WATCHing for a story containing skull or bones. This time I think it will be bones or some sort of Epiphany. I believe the stock market will drop until Winter Solstice and then turn and rally. Or they will time it down to inauguration day which is January 20 and Epiphany is January 19. So we might see a fall to late January. It is a WEEKLY event…
Latinaforliberty
2 days ago
She is right; we need morals and values in our society for things to get better; we need God back into our lives and true freedom will come !!!
Latinaforliberty
2 days ago
A very smart lady; and she explained all so well; so they want a full slavery system; and with us playing the role of slaves; well lets give up all that digital technology; lets go back to the old ways a hunter gather system; I know it is more easy said than done/ but there has to be another way where freedom awaits!!!! 🕊
(continued) (7) Institute a federal sales tax with a varying yearly tax rate adjusted by the U.S. Congress in session, the sole aim of such adjustments being to maintain a stable or decreasing Consumer Price Index based on data collected by the Federal Government. Any such federal sales taxes taken in by the Federal Government are extinguished from the currency supply to keep the Consumer Price Index stable or decreasing and are not utilized for further funding. (8) Clause 1, Article 1, Section 8 of the U.S. Constitution is amended to read as follows: The Congress shall have Power to collect customs duties on imports and exports, uniformly applied throughout the United States. (9) Clause 2, Article 1, Section 8 of the U. S. Constitution is rescinded. (10) The adoption of this amendment does not prohibit the use by the citizens of the United States of any alternative currencies they should choose to use in their private or commercial transactions, provided both parties to the transaction agree to the medium of exchange.
(continued) (4) The U.S. Treasury supplies Treasury Dollars as needed to any member bank of the Federal Reserve system to satisfy demands for cash by deposit and savings account holders in excess of cash reserves held by banks at the time of enactment of this amendment. (5) Fund the U.S. government and its agencies and projects directly via Treasury Dollars authorized by the Congress in its yearly federal budget. The borrowing of money from the Federal Reserve system of banks or from other institutions or individuals to pay for federal government expenditures is prohibited. All outstanding Treasury Securities are henceforward redeemed on demand via payment with U.S. Treasury Dollars. (6) Abolish the Federal Income Tax on individuals, corporations, and business enterprises while maintaining a social security tax on individual incomes. Social security retirement revenues are strictly sequestered in Federal Government Retirement Accounts held by the U.S. Treasury and managed by the Social Security Administration. The Sixteenth Amendment to the U.S. Constitution is hereby rescinded and the Internal Revenue Service disbanded.
(continued)including United States Treasury Bills, Notes, Bonds, and Inflation-Protected Securities, remain in effect. (2) Henceforward, ex nihilo credit creation by banking and financial institutions in the United States is prohibited. Loans are required to originate from previous savings of U.S. Treasury Dollars and U.S. Treasury-Denominated bank balances, which for each loan are held in and paid from specific sequestered loan accounts by the various financial institutions, with interest charges and term limits for each loan to be determined solely by the contracting parties. Non-cash reserves held in the regional Federal Reserve Banks in accounts of the member institutions of the Federal Reserve System no longer form the basis for credit creation and are extinguished via accounting erasure. Any further payments of principal and interest on currently-existing promissory notes owned by any bank are required to be distributed to holders of savings accounts and checking accounts in that bank in a manner to be determined by each bank, such procedures to be transparent to savings or checking account holders at that bank in terms of amount and frequency of payment. Regional Federal Reserve Banks continue to provide check-clearing operations for the member banks. (3) Monetary transactions of the regional Federal Reserve banks or of its member banks with international banks, including the Bank of International Settlements and the International Monetary Fund, can not include ex nihilo credit creation.
The current model of banking and currency is based on the Bank of England model, founded in 1694. Benjamin Franklin stated that the main reason for the American Revolutionary War was the insistence by George III that the American colonies accept Bank of England banknotes, which were issued as promissory notes, rather than use the increasingly successful American fiat script, issued by the colonies in the CORRECT quantity and not bearing debt! We must be prepared for a new monetary system, an honest one, when our present debt-based banking cartel collapses. Kindly read and critique this proposed Constitutional Amendment. But first, a little background… From "The Truth in Money Book" by Theodore R. Thorsen and Richard F Warner: QUOTE Someone had to borrow at usury to bring that money [checkbook balances, bills and coins] into existence. The money goes out of existence as the usury and the debt principal are paid back to the bank. These amounts are huge: several billion dollars go out of existence each day. [Actually this money goes into the reserve accounts of the Federal Reserve Banks, out of the hands of the public! This book was first printed in November 1980. The amounts which are withdrawn presently are much larger.] If the money is not replaced with new loans, a shortage occurs. Soon individuals and businesses experience serious cash flow problems. These result in more and more loan applications to banks—the only place where money is being created to replenish the supply" UNQUOTE Here is one possible solution—-To Hell with Fractional-Reserve Debt-Based Banking Constitutional Amendment (1) Rescind the Federal Reserve Act of 1913 and rename existing Federal Reserve notes and check book balances, in all U.S. banking and credit-creating institutions as well as foreign holdings of dollars, on a 1-to-1 basis, as U.S. Treasury Dollars and U.S.Treasury-Denominated bank balances. All currently existing financial contracts of the Federal Reserve Banking System,
This woman is an amazing interview, such an interesting perspective and so eloquent. One wonders what lead her to the banking world.
When small businesses do open, they should get the socialistic relief like big corporates get: No taxes for the next 15 years. Let large corporations make up the difference!! It's only for 15 years.
When you "go along" you are complicit in the implimentation of NWO. DON'T go along w/ anything: Resist, resist, resist!
There will be a massive resistance against the covid vaccine!
An amazing interview and an incredible woman..thank you Catherine Austin Fitts for your knowledge and wisdom.
CREATE LOCAL COMMUNITY FORUMS
ANY ongoing Fraud conspiracy NEVER has any "statute of Limitations" or can EVER be deemed legitimate from the very original beginning to the very END, because, Fraud is just that- FRAUD. ALL Fraudulent 'Debt' is NULL and Void because that 'Debt' is outright Theft and Lawless Lies.
Alex was awed and let her speak without interruption, a gentleman today!
Great analysis! I think it's dead on. The bad news is that a mass majority of the population are so far removed from any of this, including "Mainstream conservative media". I would say <3% of the population are aware. I wonder what hand Steve Mnuchin has in all this. He's been really flying under the radar in all this but it seem he has been given a blank check(s) in the matter.
Everything she is describing was shown in Fargo Season 3 in April 2017. Antagonist V.M. Varga was the globalist raider. Even has Stalin on his wall.
21:35 okay but how do we deal with all those cunt and their stockholm syndrome? these peoples are stubborn TO DEATH. So how can we walk out?how can we be judge not like/as them? "AM NOT WITH STUPID"
GeneralDeplorable
4 days ago
i think you should get madam Fitts as a permanent guest on infowars…..at least 1-2x per month for 45min….this woman really nailed it….she knows a lot of what people need to hear
Incredible info, maybe the best interview, and Alex you let her speak!
So crypto is a social corporate credit system.
Get rid of the private central banks, get rid of incometax , two major points of the communist manifest.
FIGHT BACK PEOPLE!!! WAKE UP!!
about time you got that lady on, thanks to both of you